Gigi Love/Singer songwriter, entertainer and storyteller
"Love's hook is her voice" – SLC Weekly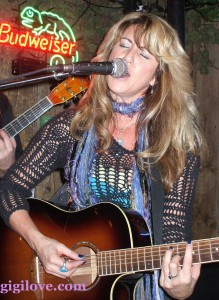 Gigi Love. Bluesy, honest, storytelling songs, depicting her travels, vision quests and dreams, enrapture her audiences and take them places.
If the name sounds familiar, perhaps it's because you were among the thousands listening to her open for the Dave Matthews Band at the Columbia River Gorge, or playing for the Salt Lake 2002 Winter Olympic Closing Ceremonies.
Born and raised in Dallas, Texas, Gigi began playing the guitar and singing at age 7. At 12 years old she was performing at major venues around the state such as Johnny High's Country Music Review in Ft. Worth, Grapevine Opry and the Stephenville Opry House.
After the Olympics, in 2002, Gigi was picked up by Freedom Zone, Mountain Dews promotion agency. Love toured west of the Mississippi and Texas, gaining recognition and radio play with college and community stations across the land. The winter of 2011 saw Gigi touring with Duncan Phillips, son of the late great Utah Phillips in a tribute band called Bums on the Plush. Her rendition of Utah's song "Going Away" can be heard on the Waterbug Label release, Long Gone, which is being played on Pandora.
Listen to Gigi's music on Spotify, Rhapsody, and iTunes. She has opened for Jodee Messina, Tim Reynolds, Dave Matthews, Howard Jones, Lyle Lovett, and John Gorka. Her favorite festival to date where she performed is the Kate Wolf festival in Calif and Roots of the Rocks 2015.
Quotes:
"Gigi Love = Lucinda Williams + Sheryl Crow + Gina French
Bittersweet alt-country goes down smooth as warm buttered rum, or better yet, buttered rum Lifesavers. Everything on this album is so perfectly executed and produced. My favorite tracks are "Baja Blue", "Dali on Fire" and "Goodbye Arcata"".
Turning to Gold Review Slug Magazine- Rebecca Vernon
"Love's hook is her voice, an impossibly mellifluous warble that fairly melts ones insides"
Salt Lake City Weekly
"Distinctive lead vocals, toe-tapping rhythm and solid songwriting on this acoustic Americana flavored material."
Indie-music.com
"Love weaves a throaty honky-tonk blues and folk sensibility from her native Texas into melodies as strong and clear as the early spring desert sunshine of her adopted Utah"
Redding Searchlight
Currently: 2016 updates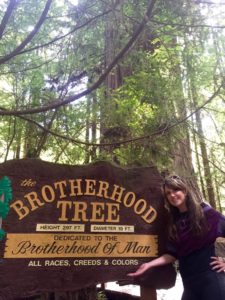 National Parks tour began in Acadia, Maine summer of 15′ and Shenandoah NP. A 3 song EP is in the making for a June 2016 release to kick off our next 10 park visits this year. Blog posts for each park, keep up with the journey on my blog.
Gigi performed at Sundance Film Festival 2016 for the Access Film Music Showcase
Relix Mag. CD sampler with song Ageless Beauty www.relix.com
Booking and performing at National Park towns and areas from May-October: Check calendar for shows
www.gigilove.com, www.reverbnation.com/gigilove, www.youtube.com/gigilovemama