Utah Phillips would be proud that there is a new hobo on the rails, tho be it a new kind of hobo. I've been singing Utah's train songs like Going Away, and Starlight on the Rails since I met his son Duncan Phillips a few years ago. All the while I was dreaming and wishing I could go back in time, when folks jumped the trains and went from town to town telling stories and making friends. Now I'm a legitimate, train traveling singer and storyteller. The National Parks Service Trails and Rails program has invited me to be on their team as the first ever Trails and Rails Troubadour. I'll be performing on the Coast Starlight, the Zephyr, the Sunset Limited and any other train I can jump on with Peter, my guitar, ukulele and mandolin in tow.
All of this came about last summer when I was showcasing my new songs from the National Parks Centennial Songs album at The Grand Canyon on Aug. 25th 2016. It was a fateful day, and it was the Centennial of our National Park Service. While playing at The Bright Angel Lodge I met Eric Smith from Amtrak and Jim Miculka, director of the Trails and Rails program. They invited me to play at the celebration for the Centennial.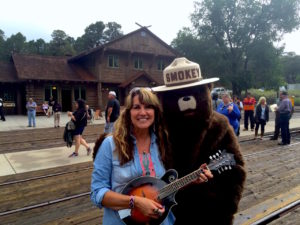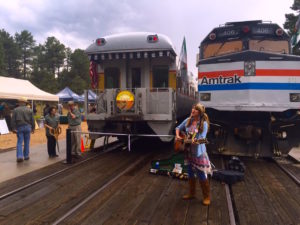 A week or so after the Grand Canyon event Peter and I were invited to ride the rails on the Coast Starlight from LA to Seattle. I couldn't believe that I was really going to get to sing on the train. It was also the first time I would be sleeping on a train. We flew to LA and went to the station the next morning. Eric Smith, Amtrak Southwest Regional Director, met us there and gave us a tour of the beautiful vintage Union Station.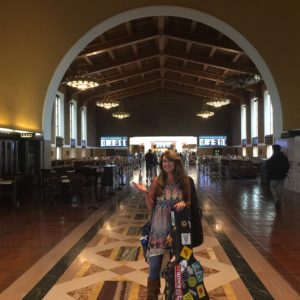 Union Station has beautiful tile work and the acoustics are awesome. They even have concerts in here.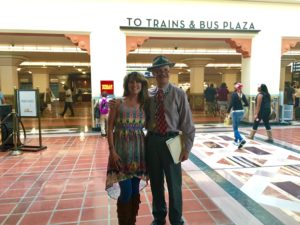 Eric Smith is an artist and his work is exceptional. He paints portraits of trains-imagine that. His paintings are behind me in this picture. I asked him if one day he would paint of picture of me singing on the train. He is so amazing!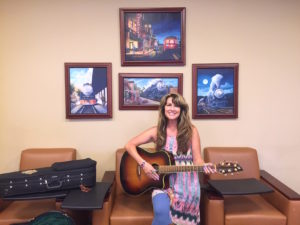 I was feeling pretty good and before I knew it, we were on the train. The trip was 6 days round trip and we decided to turn around in Portland to visit Peter's kids, Chris and Laura who live there. I sang 3x a day on the train. There were people from all over the country and all over the world on this train, the Coast Starlight. It was a global village and they were all so happy to be entertained. I walked between the Observation Car, and the Parlor Car, then in the evening I did a concert downstairs in the theater. It was challenging to sing standing up without toppling over, but I only fell a few times. The train sways and rocks and once you get into the groove of the train it's all good.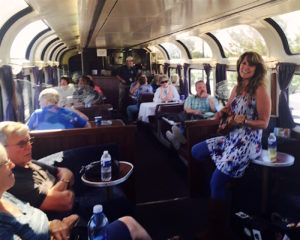 This is the vintage 60 year old parlor car. Only the Coast Starlight has parlor cars with plush blue velvet seats. This is the first class sleeper car, hang out bar, and dinner area. Wine tasting and music at 3pm.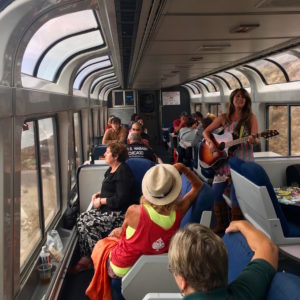 These pictures are from the observation car where all the folks on the train can go hang out, eat, visit, drink and see the ocean all the way to Oakland. The Trails and Rails Volunteers jump on the train and talk about the different trails and historical markers along the way.  I get to sing and talk about the national parks I've visited and share the story behind each song. On my downtime I listen to other people's stories and there are many.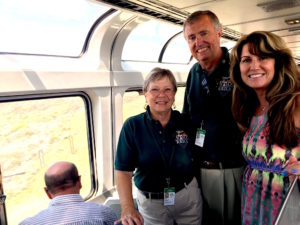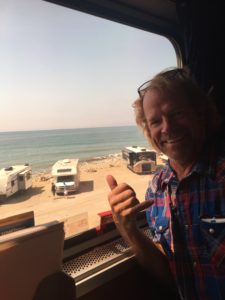 Peter enjoying the view along the coast and hanging loose! Normally we would be parked out there, where you see those campers.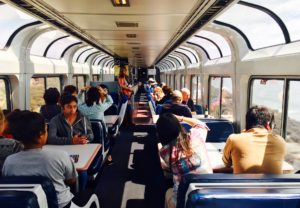 After the first day and night on the train, we got off in Klamath Falls to go visit a park we had never been to before-Crater Lake National Park in Oregon. We were picked up by the Crater Lake Trolley company at the train station and it was a gorgeous 1 hour drive up to the park.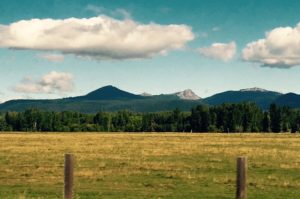 Looking out across this valley you can see Mount Mazama. The rocky glaciated looking outcropping is where Crater Lake is.
Our excitement was beyond words when we finally got to Crater Lake. First of all, being driven to a busy park in the Trolley was primo because then we didn't have to worry about parking and chaos. We just kicked back for 4 hours at Crater Lake and enjoyed every minute of it.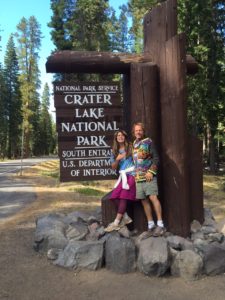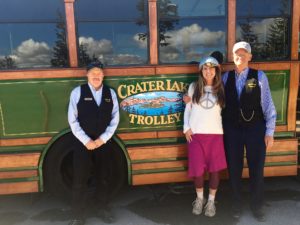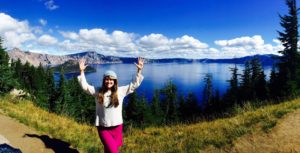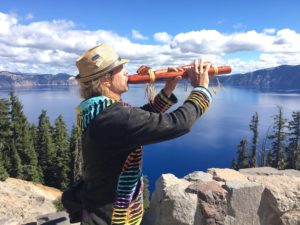 Crater Lake is a very powerful and spiritual place to visit. When Peter played his Native American flute, it felt like everything stopped and listened. There was a shimmer in the air, and the colors there are so vibrant, especially blue. The sound traveled up to heaven and back, sending chills down both our spines. The desire to jump into the lake was overwhelming for me, but I had just gotten over a cold and it was chilly out, so I did not jump in the lake. At least I have something really exciting to look forward to on our next visit, and I'll be sure to get some good video of me jumping into Crater Lake.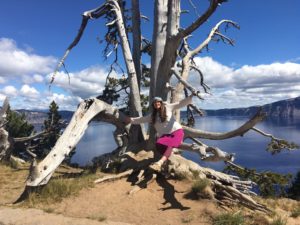 The whole time we were on this trip I was writing down my thoughts and impression of the train, the landscape and the whole feeling of being in this new reality. It was surreal and magical. I looked out my window late one night and all I could see was a million stars in the blackest sky. The train goes through the Cascades during the day and you can see Mount Shasta at sunrise on the second morning. It is precious!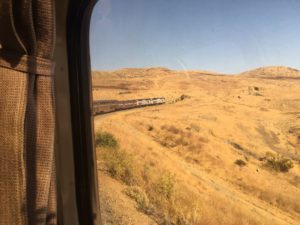 Heading back to LA , we had a good view of the long train we were connected to. Seeing the dry barren hills of California brought up some nostalgia and good memories that were turning into the song Coast Starlight to Crater Lake. It was one of the easiest songs I've ever written because there was so much to say, and it was so fun. I'm still in total amazement that I get to live this dream of being a singer and storyteller, riding the rails across America. I have so much to share and feel like there will be new friends and beautiful parks and people everywhere. It's not easy living out of your suitcase for weeks on end, but being rocked to sleep by the clickety clack of the tracks underneath us, and the stars out the window up above, going to a different town everyday and singing to interesting people really feels like living to me.
I hope you'll join me on one of our trips this summer. The first one is going to be in May 2017 on the Sunset Limited from LA to New Orleans. I'll be posting our trip itinerary on my calendar, so come be a part of this great American adventure with me!