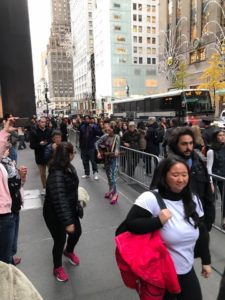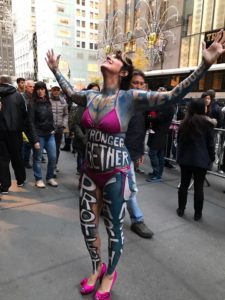 On Monday November 14th, I decided to paint my body and go sing my National Parks Centennial Songs in front of Trump Tower. The idea came to me in a vision and I knew that this was the right time for me to connect music, art and activism to bring awareness to the fragile beauty of our national parks and the importance of the president elect, Donald Trump to acknowledge climate change.
Michael Mejia from Skin Wars came to the Washington Square Hotel where we were staying and painted me up! We got on the subway and started heading towards Trump Tower.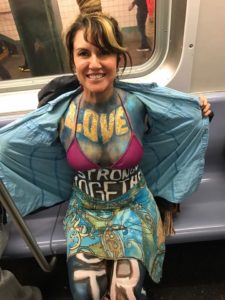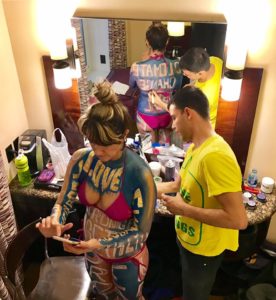 Peter, Michael and I were moving quick through the crowds when we came to a spot where they were stopping everyone from going to Trump Tower. Police officers in full riot gear told us we could not go into that area, and I said, "Oh we're going to Gucci and we're gonna take some pictures." They let us pass. On the link you can see an article from Associated press and also a climate change article from The Guardian.
https://www.theguardian.com/us-news/2016/nov/17/climate-change-a-chinese-plot-beijing-gives-donald-trump-a-history-lesson?CMP=share_btn_fb
Trump ditches press, goes out for dinner at the 21 Club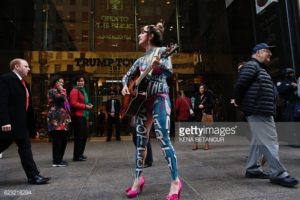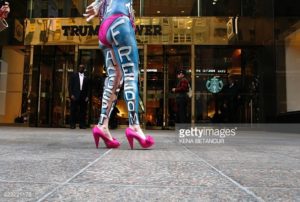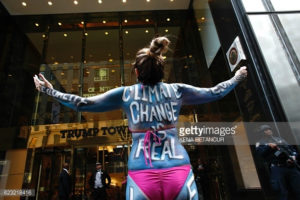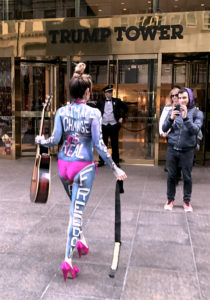 I was hoping Donald would come down and say hello, but since he didn't I shouted up the big black tower of Mordor and said "Donald Trump, please acknowledge that climate change is real". The haze that is filling up the Grand Canyon and blocking our beautiful views in many of our national parks is caused by the pollution from the nearby mining, refineries, smog in LA and dirty coal fired power plants-the largest emitter of greenhouse gasses in the domestic USA.
Sooty haze from coal fired power plants cuts the view in the Grand Canyon by 100 miles on the days when it's bad. The Najavo generation station is the local big polluter in the area. The dirtiest coal plants should be cleaned up. Donald values his views on his golf courses, thus he should value the views in our national parks because they are one of our greatest sources of pride and tourism from around the world.
My National Parks Centennial Songs album was created to help bring awareness of the beauty of our parks, inspire a continued love for them and a desire to protect them for the future generations. Listen to tracks at www.gigilove.com/music and share this message to your family and friends for the love of our wilderness and parks.
This is my message concerning the national parks and why we need to protect our air quality and the quality of life for Americans and people all over the world. Below I am singing my song, In The Grand-the beloved Grand Canyon.